ALHR Secretariat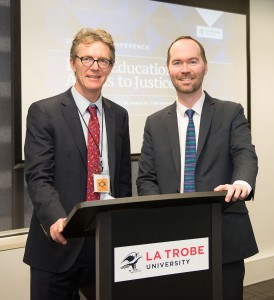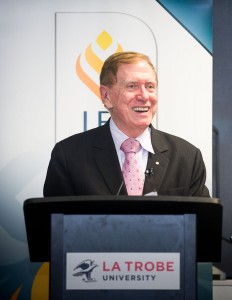 In July 2015 the honourable Justice Michael Kirby officially launched Australian Lawyers for Human Rights' relationship with La Trobe Law School. Ms Randa Rafiq, a La Trobe Alumnus, has been appointed as the secretariat.
The Secretariat will provide a range of new resources to ALHR and greatly enhance our ability to promote, practice and protect universally accepted standards of human rights throughout Australia and overseas. This newly created partnership demonstrates ALHR's and La Trobe Law School's (LLS) shared belief in the value of  human rights education for law students and the dedication at LLS to innovative, high quality legal education with a strong commitment to social justice and interdisciplinary enquiry, a global perspective and hands on experience.
The secretariat and students undertaking the newly created Human Rights Advocacy subject will collaborate with ALHR to assist with research work for ALHR submissions, development of memoranda, enquiries of governments and institutions, liaison with the ALHR National Committee and much more!
Human Rights Advocacy at La Trobe Law School
Human Rights Advocacy is a new experiential offering at La Trobe Law School. Working closely with ALHR, students engage in a wide range of activities designed to promote awareness of international human rights standards in Australia. While the precise nature of the work will vary from semester to semester, students have worked on research focused tasks such as drafting position papers and fact sheets and contributing to submissions to domestic and international organisations including communications to United Nations Treaty Bodies.
Students also engage in social-media related advocacy such as writing human rights related blog posts and have opportunities to contribute to the organisation of public events hosted by ALHR, and attend human rights events such as the Australian Association of the UN annual conference. Students will also contribute to other longer-term projects, such as monitoring Australian compliance with international obligations and mapping the provision of legal services in specific human rights fields (such as asylum seekers).
Working under the supervision of an academic coordinator, and with the assistance of the ALHR Secretariat, students in Human Rights Advocacy have the opportunity to improve their research skills, to write in different contexts, to work cooperatively, to meet time sensitive deadlines and importantly to learn via direct supervision of ALHR lawyers, about a wide range of human rights-related legal issues.
This is a great opportunity to foster students who will be amongst the next generation of human rights lawyers in Australia and provides ALHR with additional support and resources, further enhancing our ability to:
promote and support lawyers' practice of human rights law in Australia;
promote Federal and State laws across Australia that comply with the principles of international human rights law; and
assist victims of human rights violations in Australia